A class highlighted by 19 players ranked three-star or higher
(via Rivals)
made this signing day more enjoyable for Cardinal fans than in recent years. Although it didn't end up as well as he had hoped it would, first-year coach
Charlie Strong's first recruiting class was still better than anyone associated with Louisville thought it would be only two short months ago
. He re-established the previously tarnished pipelines to the southeast and proved that Louisville is the type of school that can compete for players with traditional powers in the Big Ten & SEC.
Check out the whole class via scout.com
. Could be the first step back to a conference championship and national relevance.
It's extremely hard to predict which guys are going to fulfill their potential and which aren't. Guys like Amobi Okoye come in underrated and leave top-10 draft picks. Some are like Woodny Turrene or LT Walker who come in 4-stars and leave duds. That being said, I think there are 4 guys that have the coaching staff drooling like Emmanuele Chirique is washing a car in front of them and that could potentially be all-conference-types in 2013 or 2014...
OLB Deon Rogers - 6'3 200 - Treasure Coast HS - Port St. Lucie, FL

Rogers is a speedy outside linebacker who was previously committed to Georgia. the Bulldogs replaced their whole defensive staff and the new regime decided to install a 3-4 defensive scheme, something that Rogers didn't feel he would mold into well. He has been clocked in the 4.5 in the 40 and was rated a 3-star by both major recruiting services. He is the same tall, athletic type of backer that Charlie Strong has had
success for years coaching.
He has the type of frame that new strength coach Pat Moorer can mold into a 6'3 230lb machine and not lose a lick of speed.
Plus it never hurts that he played his high school ball in Florida against some of the best competition there is. Something that was overlooked for the Cards in the past couple years was the solid play of the linebacking corps, with all 3 starters moving on, Neon Deon might be forced to grab the torch sooner than later. Even though Rogers is the lowest rated of the 4 players highlighted, to borrow a phrase mostly used at the NBA Draft...he has the most upside.
DE/LB/HOSS B.J Butler
- 6'3 253 -
Osceola HS - Kissimmee, FL
(VIDEO)
Whenever you see a guy pick Louisville over home state powers Florida & Florida St. and defending national champion Alabama you immediately think something is wrong with him.
That is not the case with this 4-star load. Funny thing is, Louisville didn't even go after Butler thinking they had no shot until Strong took over. Butler took a liking to Strong after his commitment to Georgia wavered due to the defensive staff like Deon Rogers. Butler, a guy of his caliber, actually publicly stated he was interested in the Cards before being offered a scholarship.
According to Kyle Hightower of the Orlando Sentinel, Butler was one of the state of Florida's premier defensive lineman "with great speed off the edge and knack for getting in the face of opposing quarterbacks.".
In videos I've seen and accounts I've heard, this guy can get into the backfield with ease - something the Cardinal defense has been lacking under the previous staff. Butler has the capability to turn into one of the Big East's elite sack artists after a year or two of tutelage from Strong and new d-line coach Clint Hurtt.
WR Michaelee Harris
- 6'0 180 -
Miami Northwesten H.S. - Miami, FL
(VIDEO)
N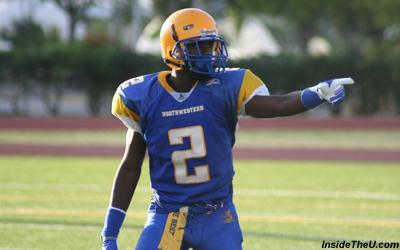 otice how all three I've mentioned so far are from the state of Florida? Harris is the big-play guy that both Strong and new offensive coordinator Mike Sanford need for the future. He doesn't have the eye-opening, blazing speed that gets people's attention on paper (4.5 40) but he does have the hands and route running ability to make up for it.
Harris was ranked in the Top 100 players in Florida by the Orlando Sentinel
and is said to have possibly the best set of ball skills (hands, concentration, coordination) of any receiver in the entire 2010 class. Plus, he has a really unique name that sticks in your head after even just one time hearing it. Michaelee Harris. Give thanks to fellow recruit Corvin Lamb of Miami NW for picking the Cards first and swaying his teammate to come along. No better way to recruit in the country than through other recruits.
ATH Dominique Brown
- 6'2 200 -
Winton Woods HS - Cincinnati, OH
(VIDEO)
I have seen a lot of people describe this guy as a
"Michael Bush-type"
and anytime #19's name pops up, I listen. As did Bush, Brown wants to play QB in college as he did in high school. With the new spread offense that Sanford and Strong are installing, that might be a distinct possibility. Brown is known for his scrambling ability and elusiveness with the ball, but has also been praised for his touch throwing it. It's been thrown around that Louisville might go with 2 QBs in the spread with someone like Brown running the majority of the time in a wildcat-like set and another QB coming in to throw the ball more. Whether or not that will work remains to be seen (did for the Tebow/Leake combo at FL) yet if it doesn't, Brown could find himself at a number of positions around the field, most likely RB or WR. Athletes with the combination of size and speed like Brown will find their place on the field eventually and have success when it's found. If he turns into hal the player Mike Bush was, Cards fans will rejoice.
I wouldn't expect any of these guys to make what you would call an immediate impact in 2010. Having said that, Strong stated clearly that he brought in guys that filled needs. All 4 play positions where the Cards are either losing a ton or didn't have anything to begin with so they could be thrown into the fire sooner than perhaps they should. Let's hope they all finish getting qualified and keep their respective noses clean over the summer so once Coach Strong and staff get a hold of them they are ready to go to work. Strong worked his tail off getting them to come to Louisville, the least they can do is return the favor.