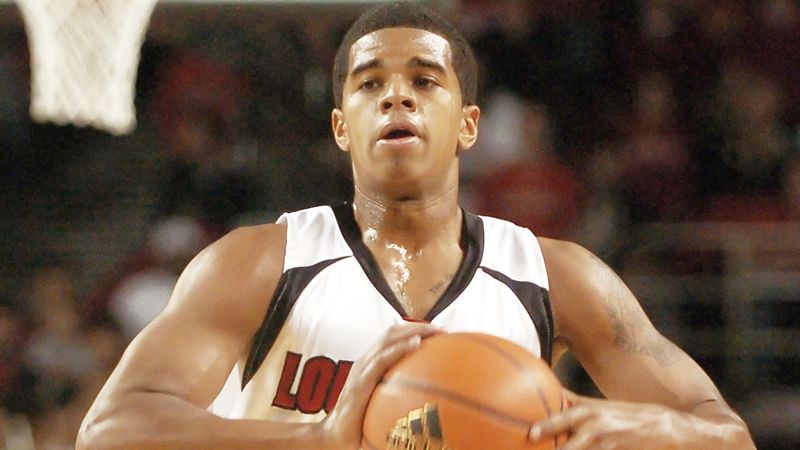 "Survive and Advance"
After another unnecessarily close game that needed an 11-2 run late in the second half against the DePaul Blue Demons, those 3 words uttered by N.C. States coach Jim Valvano almost 30 years ago, could not ring more true for this years Louisville Cardinal team. In a 68-59 win at DePaul, the Cardinals seemed sluggish on both the offensive and defensive end against an inferior team at every level. Senior point guard, Edgar Sosa, led the way for the Cardinals with 13 points on 4 0f 5 shooting from the field and a perfect 5 0f 5 from the free throw line, all in only 18 minutes of play, due to late game foul trouble. Sosa truly shined on shot selection and in the assist department. Passing out 7 assists and only commiting 2 turnovers, this was one of Sosas best games of the year. He couldn't have picked a better time to start heating up.
We have a Terrence Jennings sighting. Like Punxsutawney Phil, coach Rick Pitino let Jennings out of his doghouse long enough to finally have an effective game. The sophomore forward got 9 points on 4 of 6 shooting from the field, grabbed 9 rebounds with 4 rebounds on the offensive end, and blocked 4 shots. The only negative to his game was his still awful shooting at the free throw line, where he shot 1 of 4 for a measley 25%. Coach Pitino touts his individual workout sessions for his players all the time. Well, why doesn't the coaching staff work on Jennings' free throws EVERY DAY, in these individual sessions? One other question I have is, why does Terrence Jennings not have at least ONE go-to post move after almost 2 years? I just don't understand why he has not improved in that area.
After scoring 36 points in his last game against Notre Dame, sophomore center, Samardo Samuels had a slightly better than average game with 14 points on 6 of 10 shooting from the field and coming up with only 3 rebounds. Against a clearly physically inferior team, Samuels should have dominated the low post, offensively, all day long. He should have made regular trips to the free throw line also, but instead, got to the line ony twice all game long. Another disturbing trend is Samuels' lack of rebounding. Whether it be his lack of fire or technique, something has to change for the Cardinals to make any kind of run, come tournament time.
Sophomore forward Jared Swopshire didn't have a good shooting night, but like any good basketball player, he put his imprint on the game in other parts of the stat line. Along with 5 points, Swopshire garnered 7 rebounds, dished out 5 assists and had 2 steals. Better get used to loving Jared Swopshire, Cardinal fans. Thrust into the power forward position early in the season, when coach Pitino benched Terrence Jennings, Swopshire struggled as an undersized player at that position. Since then, Swopshire has thrived after being moved back to his natural small forward position. He reminds me of a Garcia/Prince type player. A jack-of-all-trades master of none, type of player. Hustles all the time, especially at the rebounding and defensive end.
On the DePaul Blue Demons side, the ONLY bright spot was junior forward/center Mac Koshwal. He had an impressive outing, scoring 26 points on 11 of 16 from the field and garnering 10 rebounds. The Blue Demons best shooter, senior guard Will Walker, had what could only be described as a nightmare shooting day. He shot 2 of 14 from the field and 0 for 7 from the three point line, to only come up with 6 points. I counted at least 5 airballs from Walker. 2 airballs in a game are bad, but to shoot 5 airballs at home, is inexcusable.
Well, the Cardinals got another win, which, at the end of the day is all that counts. It's just frustrating to struggle against an opponent that is at the absolute bottom of the conference at 1-13. One problem I have with this team is never knowing which player is going to show up, game after game. On some levels, that problem can also be a good thing towards opposing teams defensive gameplanning. This Cardinal team is a true Jekyll and Hyde team, never knowing which team is going to come onto the floor. Luckily, right now, they are playing more like Jekyll. On Tuesday, Louisville is going to need everybody to show up, when the Georgetown Hoyas visit Freedom Hall. Georgetown is a really smart and always physically tough basketball team that the Cardinals will have to play a really good game against to get a win. Let's hope we see alot of Dr Jekyll's in white uniforms Tuesday.