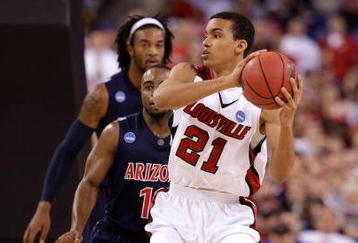 The Louisville team arrived in New York City for Thursday night's match-up against St. John's a day early due to the snow barrage that has slammed the majority of the East. It was either that or gameday and last time they traveled day-of they took a beating at the hands of Notre Dame last year. The team arrived safely last night, which was confirmed via the players' obsession with Twitter (Hey, I'm obsessed too). Due to the early arrival in the Big Apple, Coach Pitino had his pregame press conference via the phone. It's what the old-timers call a teleconference.
As Trevor so beautifully told us earlier, George Goode will not return to the Cards this season due to some bad luck and injury. I have a funny feeling we have seen the last of Mr. Goode due to the fact that Pitino is going after next year's class heavier than he ever has and 2011 could be six-deep. The schollys just don't match up if you look at it. Unfortunate because I thought Goode was always a great defender at the 4 spot and when I saw him in practice he could knock down a 15-footer like he was playing in the wrong era. Here's to a speedy recovery for George.
Now to the players currently on the floor... Pitino said today that Jared Swopshire would be back in the starting lineup at the 4 spot for Terrence Jennings. St. John's plays a smaller lineup and even though he has been slow of foot at times this season, Swop is a better match-up in this one. T.J. has just not been playing good defense when his man floats outside and Norm Sloan's Red Storm are the type of team that could possibly exploit that. Pitino, I'm sure, knows that his team can't have a brain fart against a team they should most-definitely handle with ease.
Swop has been the butt of many jokes amongst both Louisville fans and our adversaries. I won't say whether he deserves it or not, but consistency has definitely been a problem. The last two games against UCONN and Rutgers, Swop has came off the bench for some of his best play of the season. 9 & 9 vs. UCONN and 13 & 8 vs. Rutgers. What people fail to see is that Swop played 32 & 34 minutes respectively in both contests - those are starters minutes so it shouldn't make that much of a difference. Fact of the matter is, Jennings and Swop both have problems defensively. Swop inside and Jennings outside. They both need to improve moving into the teeth of the season. It's just a matter of which one Pitino thinks fits better in a particular game to get starters minutes.
We'll find out tomorrow whether Swop plays better coming off the bench or if it doesn't really matter as long as he gets the big minutes.