What if?
It's one of the cornerstones of sports arguments and I love to talk trash about sports all the time. Just this season there's: What if Cousins gets thrown out for the elbow on Swop? What if Coach Pitino played Samardo and TJ the whole year? What if the Big East officials didn't call the game with their heads up their ass? The answers to those questions aren't definite by any means, therefore excellent fodder for some smack talk. One that I've been pondering all year is :
What if Louisville still had Derrick Caracter?

Let me preface this by saying that DC and Pitino never hit it off from jump street. DC was a basketball prodigy who had a bad attitude and was coddled too much. Pitino is as demanding as it gets and will not give anyone special treatment who disrespects his rules and regulations. Both parties are in a better place now. Pitino in Freedom Hall and Caracter at UTEP.
There's a
great article in the El Paso Times By Bill Knight that got me thinking about the former savior turned tragic cast off
. By the looks of it Caracter is a changed man under UTEP coach Tony Barbee. The laziness is gone...allegedly. The horrible work ethic cured...supposedly. The bad attitude turned good...possibly. With that being said,
Caracter is averaging 14 pts and close to 9 boards a game for the Miners
and is was honored as C-USA player of the week recently. In 14 games he has 6 double-doubles and is shooting 57% from the field. He has games if 15-15, 20-13 & 21-10. Plus he rocks a fro-hawk haircut now instead of the wannabe Anthony Mason garbage he used to sport. His competition might not be that of the Big East, but it's not completely awful. No off the court incidents or poor grades added and it looks like
The Derrick Caracter project has turned out to be a success so far in El Paso.
We all know what happened between him and Coach Pitino in his stay at Louisville with the weight restrictions, constant ignorance to nutrition, multiple violations of curfew, insubordination, ect. ect (the rumors and stories out there are crazy - don't know how many are true). One would assume Pitino saw his immense talent and kept giving him opportunities to redeem himself but to no avail. I mean, this guy used to take Greg Oden to school on a regular basis on the prep circuit. Pitino even went as far as to get Caracter's mom to send an application to Dunkin' Donuts to her son for motivation. Pitino probably thought at times: Hell, Ellis Myles did it with a lot less talent...why can't Caracter? For some reason, things didn't click for DC until the opportunity here had passed.
Now DC would have been a senior this year at Louisville. Does his presence help or hurt the Cards going into the tournament last season? It's fun to debate, but I would lean on the side of hurt. It's hard to say the Cards could have done much better than a #1 overall seed in the tourney with the big guy. Also Caracter had a brother like relationship with Earl Clark. They were somewhat bad influences on each other while here and you'd have to suspect that it would have continued. In addition, you can't forget about the alleged incident at halftime of the Carolina Elite 8 game where he and Pitino got into it because DC thought he should be playing over David Padgett. All that stuff taken into account along with numerous other rumored problems, Pitino STILL gave him another shot to come back after sitting indefinitely. Caracter refused. Pitino was done with it like he currently is with the Big East refs... and rightfully so.
But can you imagine Samardo, TJ and Caracter this year or a rotation of DC, Samuels, Clark and Jennings last year? If the Cards got the Mr Hyde DC that can play 25-30 productive minutes in cases if fatigue or foul trouble, do they make a deeper run in March? If they get the Dr Jekyl DC that is a locker room cancer and rule breaker, do they make it past the first weekend? These are the things I think about at night in between trolling in facebook and watching NBA TV. DC chose to continue to break the rules, therefore we never got the chance to see it happen.
Last years team might have hit the absolute peak regardless of who joined. However, I think this years team could use DC And use him well. He could split minutes with TJ at the 4 and allow Swop to move to the more natural 3 or be the backup at forward and center. If anything it would keep Samardo fresh late in games and allow TJ to play tougher defense without worrying about foul trouble. If only he would have stayed away from the Jumbo Buffet and Golden Corral, show some self control, and respect a curfew, DC might have been able to finally showcase his skills this year as a battle-tested grizzly-veteran of the Big East.

It's all for naught. Like i said, fodder for debate. Caracter burned all his bridges in Louisville and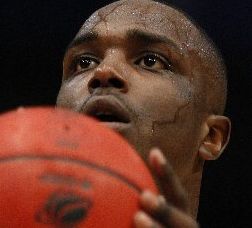 had to nearly hit rock-bottom before he realized he had almost wasted a potential lottery pick of talent into a washed up has-been in less than 4 years. Looks like he's turned the corner though. Louisville fans should be happy for him.
It's just unfortunate that it couldn't happen here
when DC had the potential to be one of the all-time fan favorites. It's easy to bash and say he should have done what Pitino said, but for him it took a humbling experience like getting dismissed to get his priorities straight. Yet maybe if Pitino was just a little big more patient it would paid off in the long run.
What if Derrick Caracter still played for Louisville? I think I'm more confused as to what would happen now than I was before I started writing this. So many good possibilities, so many bad. But for the record, DC had 22 points and 13 rebounds in a Miner victory last night over Houston. Looks like the good just needed to happen someplace else.