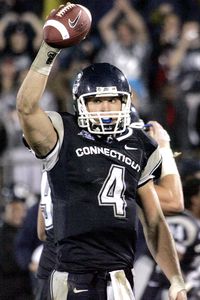 Record
- 4-0
Conference
- Big East
Location
- Storrs, CN
Stadium
- Rentschler Field (40,000)
UCONN defeated Louisville last season 21-17 in Storrs with help from a now infamous punt return for a TD that shouldn't have been. However, Louisville could not hold onto a 10-point lead and a late Brian Brohm interception sealed the deal for the Huskies. Current UCONN QB Tyler Lorenzen completed 9-18 passes for 130 yards and former RB Andre Dixon had 22 carries for 115 yards and a TD as UCONN won their first game ever against the Cards.
(Louisville leads 3-1 all-time).
Head Coach
- Randy Edsall (54-55 in 10 years at UCONN)
Edsall has helped UCONN transition to D-1 from D-II since becoming head coach in 1998. His squads have appeared in 2 bowl games, winning Motor City Bowl in 2004 over Toledo. Edsall is a protege of current New York Giants Head Coach, Tom Coughlin. He played for Coughlin at Syracuse University and later coached under him at Syracuse, Boston College and the Jacksonville Jaguars. Edsall's name pops up a lot with coaching vacancies, most recently flirting with Georgia Tech just last year.
Notable Alumni
- Meg Ryan (overrated actress), Moby (overrated musician), Leigh Montville (legendary sports columnist - Sports Illustrated), NBA PLAYERS: Jake Voskuhl, Charlie Villanueva, Marcus Williams, Cliff Robinson, Kevin Ollie, Emeka Okafor, Ray Allen (aka Jesus Shuttlesworth - left), Sue Bird, Rebecca Lobo, Swin Cash (ESPN), Josh Boone, Scotty Burrell, Caron Butler, Rudy Gay, Richard Hamilton, Ben Gordon, Donyell Marshall
NFL Alumn
i - Dan Orlovsky (Detroit Lions QB), Deon Anderson (Dallas), Nick Gianquinto (only UONN alum with Super Bowl ring - Redskins)
Cardinal Connection
: Here it is... I have yet to forget about it and neither should you..
Outlook
- Although they have the leading rusher in the country Donald Brown, who has yet to have a half with less than 100 yards on the ground, the Huskies have not faced a defense as formidable as the Cards. Kansas State had the same problem, but UCONN is a better team in my opinion. Ron English will have the D geared up to stop Brown, so fans should be more worried about getting burnt deep, even though Lorenzen threw only 18 times last year. If the Cards can build an early lead behind the play of Vic Anderson and co., the Huskies will be forced to throw, which could bode well. I expect us to move the ball at will, it's just a matter of not letting them control the clock with their running game. I expect a similar outcome to last week , with the Cards taking an early lead and then giving up some garbage late. 3-game winning streak for the Cards.
Prediction
- 35- 24 CARDS