It's finally March. The best time of year for a college basketball fan and something that rivals anything else in sports. As we saw with Georgia last year, even a team that is considered absolutely, 100% out of the tourney can make a Cinderella-type run and get an automatic bid with a conference championship. Teams like that also play spoiler to potential bubble teams. A title from a team that wasn't supposed to get in will subtract an at-large berth spot from someone that was . That is the scenario teams like Maryland, Boston College, Oklahoma St, Notre Dame and Florida would dread to see.
- There is also the possibility of a team like Davidson with a 25-6 record and one of the most exciting players in hoops getting upset in the their conference 'ships and taking an at large from a power conference team. This year Davidson has been competitive against teams from power conferences, but their only significant win is against West Virginia. Stephen Curry and his boys deserve a bid, but say we're talking about Siena - a far less popular team. The Saints are 23-7 and have been talked about as one of those potential 5/12 6/11 upset picks. However, if they don't win the MAAC conference crown they will be hosting an NIT game. Western Kentucky and Utah St. are in the same boat. Both have big non-conference wins and sit in the top 50 of the RPI. You would think they'd be in if they lost this week but stranger things have happened on Selection Sunday. Utah St. is sporting a robust 26-4 record so it would be extremely hard for the committee to leave them out. Utah St., Western, and Siena probably have more pressure on them then any other teams in America. All have had exceptional seasons that would have been rewarded in a tougher conference. Yet if they slip up the least bit it will be nothing more than a NIT bid.
- The Mountain West Conference might get more bids than the SEC and Pac-10. Both Utah (10th in the RPI) and BYU (21) are lead-pipe locks to get in. UNLV, San Diego St. and New Mexico all have 20 wins and all have RPI's in the top 64. I think it would be a farce to see a team like San Diego St. over a team like Michigan or Minnesota, but it looks like it might happen. I just have a feeling if any of the MWC teams played the same schedule as a SEC or Pac-10 team they wouldn't be as successful. Just as a team from the SEC or Pac-10 would have trouble in the BIG EAST or ACC. I think 3 at the most should be sufficient enough to represent the MWC this year. Any more would be at the expense of a team punished for playing in a more competitive conference.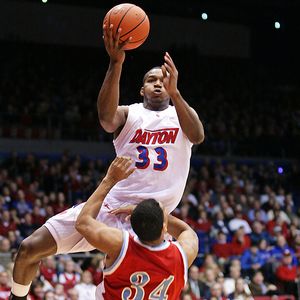 - The Dayton Flyers are another team that is going to get a strong look in the war room next weekend. They could have solidified a bid with a win over Xavier last night, but a 17-point loss placed them back firmly on the bubble. This is all despite a 24-6 record and being 27th in the RPI. What hurts the Flyers is their 109th ranked schedule and losing 4 of their last 7 games. As a basketball fan, you should want Dayton's Chris Wright in the dance as he is one of the most exciting dunkers you've ever seen. I say wins over Marquette and Xavier coupled with a single win in the A-10 gets the Flyers in. I just don't see how those guys focus on basketball with all the kegs of Old Mill-funky rolling around town. Coach Brian Gregory keep his squad as far away from the infamous "Ghetto" as possible. The team must stay in Cincy during the season or something.
- It is unfortunate that Saint Mary's guard Patty Mil
ls broke his hand and missed most of the second half of the season because the Gaels had an 18-1 record and were finally giving Gonzaga some competition in the WCC. They struggled in his absence, losing 4 of 5. However, they have won 5 in a row and Mills returns this week. The Australian point guard's speed is rivaled by only Ty Lawson and he reminds me a lot of a young Tony Parker in the way he plays. He was averaging 18 a game before the setback. The bad news is Mills' squad more than likely needs to win this week's tourney just to get a bid even with a 24-5 record. There's a possibility the committee will take in to account the injury even if the Gaels fail to win. But will it be at the expense of a power conference team?
Here's what to watch for during Championship Week...
Friday - A slightly better Friday than we are used to seeing, but still nothing to write home about. the only thing good that is even watchable (literally) is St. John's at Notre Dame on ESPN360. Aside: ESPN360 is a must have for a true college hoops fan. Your team is playing someone you haven't gotten to watch all year in the tournament - all you have to do is hop on 360 and there are probably at least 1 if not 5 games on that team. Plus if you're stuck in Lexington - where I guess they refuse to show an in-state possible #1 seed against Cincinnati - it is a life saver. This is the last week of the no-talent Fridays. The next three are some of the biggest hoops days of the year.
Saturday -
NOON - CBS-HD - UCONN at PITT - It's the creme de la creme, the top shelf liquor, the Perfect 10 model. This is about as good as it gets this time of the year. Rarely do you see two teams ranked that high from the same conference battle it out this late. In their last meeting DeJuan Blair ate Hasheem Thabeet's breakfast and lunch then took his girlfriend to a nice steak dinner and never called her back. We'll see how "Shagari with talent" reacts. The real match-up is between the two most underrated players in the country - UCONN's Jeff Adrien and PITT's Sam Young. What a way to start the day. If UCONN wins, they are the BIG EAST regular season champs.
2PM - CBS-HD - Kentucky at Florida - If it is possible to have an elimination game before the postseason - this is it. I find it hard to believe that the committee will take only 3 teams from the SEC, regardless of how down it is. That means one of these two is getting in and the other is going to be disappointed. Both team's intensity has been questioned, but I doubt it will be lacking here.
4PM - CBS-HD - Texas at Kansas - Can you remember a season when both Texas and Wisconsin were on the outside looking in? A win here would be enough to propel the horns into the dance, but a loss could bring that very scenario. Sure Texas has some big wins, but their 5-5 record in the last 10 might cancel those out.
9PM - ESPN-HD - Louisville at West Virginia - If PITT somehow pulls the season sweep of UCONN, a cardinal win would mean the #1 seed in the BIG EAST tourney and possible #1 seed in the dance. Morgantown is already a hostile place to play and the crowd is going to be good and liquored-up for this late start.
Sunday -
NOON - CBS-HD - Purdue at Michigan St, - I said it in my Week I roundup and I still mean it - Purdue is a Final 4 sleeper. They are filled with youngsters who hit a wall mid-season and are bouncing back strong. The loss to Northwestern this week doesn't help my argument at all. The Boilers are the type ofinconsistent team that could become consistent and string together 4 wins in a row against high-level competition.
2PM - ESPN360 - Virginia Tech at Florida St. - Seth Greenberg is one of the most underrated coaches in America, but he is going to have to pull off a miracle to get his 17-12 Hokies in. A win at Florida St. would be a start.
4PM - CBS-HD - Duke at North Carolina - Let the Psycho T love fest begin. The Heels' all-time leading scorer will play his last game in the Dean Dome against a bitter archrival. You thought the referees were on his side before? Who is going to call a cheap foul in him on Senior Day?
6PM - FoxSports - Clemson at Wake - Could be the last home game for Wake soph Jeff Teague and freshman Al-Farouq Aminu. both are projected very high in next year's NBA draft. A Clemson win would tie them with the Deacs and Seminoles for 3rd place in the ACC behind Carolina and Duke.
Monday (these are all conference title games)
7PM - ESPN - SoCon - Most likely will pit Davidson against either Chattanooga or The Citidel. It would really shake things up if either of those teams could knock off Stephen Curry and co.
9PM - ESPN2 - MAAC - Siena and Niagra would play if the seeds play out right. After those two teams there is a significant drop-off, so it would be a small shock to see an upset.
Tuesday
8PM - ESPN2 - Summit - The battle for a #16 seed and whooping has North Dakota St. as a favorite in their first season in D-I. They have a guy, Ben Woodside, who dropped 60 in a loss.
9PM - ESPN - Horizon - AKA the Butler Invitational. The Bears Bulldogs should roll here. A Bear Bulldog loss would surely burst someone's bubble.
10PM - ESPN - Sun Belt - Western Ky and Ark-Little Rock both have 20+ wins, but only one tournament spot to fill. I could also see Dominic Tilford and So. Alabama attempting in a run at the belt.
Wednesday
8PM - ESPN2 - Northeast - Robert Morris is winning this thing. I can feel it. But really, unless there's a buzzer-beater or a team with a losing record wins any of these games, they are all just filler for the good stuff to come.
10PM - ESPN2 - Big Sky - Weber St. won the regular season championship which is amazing given they don't have Harold "the Show" Arceneaux to carry them anymore.