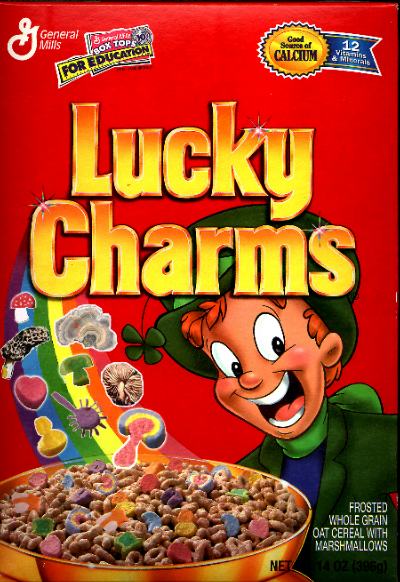 "They'll never get me Luck Charms..."
- It wasn't too long ago that Notre Dame was one of a handful of teams you would hear in preseason Final 4 teams. Now they are 12-10 and are about to watch all the the Big Dance on TV like everyone else. Since the Cards laid the absolute worst OT whooping since the original Dream Game, the Irish haven't won a game. Not one. Their closest margin of defeat in the stretch is 7 to Marquette. 7 is also the number of games they have lost in a row. How can a team with all that talent just take a complete nose-dive? What in the name of LaPhonso Ellis is going on in South Bend?
Team is relying too much on Frankengody

- I think coach Mike Brey realized that and played him only 7 second half minutes in the 26-point loss to UCLA. 'Gody had a career-low 1 rebound to go with only 5 points - snapping his 48-game double-digit scoring streak. The Bruins were throwing double teams at him all game and he shot 2-12 from the field.

Lack of Depth

- The Irish only have a 7-man-rotation which doesn't match-up well against most BIG EAST, especially the Cards. They have as talented a starting 5 as nearly anyone, but their bench is not acceptable. They are forced to play guys they don't want to because of fatigue.

McAlarney Lost his Lucky Charm

- Kyle McAlarney has hit 5 or more 3 balls in 8 games this year. He has only 10 in the last 5-games. Certainly shooters go cold every now and then, but the Irish rely upon him to score 18-20 a game. In the last 5 games, McAlarney is averaging just a shade over 10.
Those are just a few things that have been hampering the Irish. However, they still should scare the bejeesus out of the Cards. Before the streak hit, the Irish were a dangerous team. Frankengody might turn into a psycho-path after seeing the Cards - the team the sent his last season into a tail-spin. Despite the 7 game losing streak, the Irish still have the same weapons they had when they came into Freedom Hall January 12th and took us to the brink.
- Caught a few segments of the
Pitino Show
tonight. Here are a few nuggets...
He said that Samardo will have to have root-canal surgery after the season is completed to fix the injuries he suffered against St. John's. Mardo will play against Notre Dame and Pitino is very pleased with the way he is playing. He won't practice before Thursday.

Stated the obvious that Earl Clark spends too much time around the perimeter and taking threes. Said Eal will play 32 minutes tops. Any more than that and he isn't as effective.

Said he's a little concerned about how long it is taking T-Will to recover from a nagging wrist injury. It's well taped, but has a little tendinitis. Hasn't seemed to effect his play one bit. A deep-bruise in the wrist was the diagnosis and Pitino said he shouldn't have played, but did.

Terence Jennings is a great game player, but not a very good practice player. Said they are working with him very hard to turn him into a good practice player.
Starting 5
1.
AP
-
USA TODAY
-
Durant, Mayo, Johnson in All-Star H-O-R-S-E game
(this could be really, really awesome, really, really stupid or really, really long. All I know is I'm still going to watch)
2.
Bryan Mullen
-
The Tennessean
-
UT reports recruiting violations by ne
w coach
(How long has this guy been coach? Already getting reported to the NCAA for a "mock press conference" and use of "fog machines". Did I mention his wife is smoking hot?)
3.
AP
-
Barkley to Return as TNT Analyst
(It will be good to see what the Chuck Wagon has to say after all the time he has missed due to a DUI charge. Despite his transgressions, Barkley is one of the straightest shooters in sports TV history)
4.
Chris Chase
-
Yahoo's the Dagger
-
The coaches poll's strange infatuation with UCLA
( I was thinking the same thing when they moved up 7 spots in a week. That is uncalled for.)
5.
Jack Kuenzie
-
The State - Columbia SC
-
Eight Arrested in Michael Phelps case
(This has Duke lacrosse team written all over it. How can one photo of a guy hitting a bong turn into eight people getting arrested? None of which were photographed in the picture. I'm going to need TC to help me out on this one.)