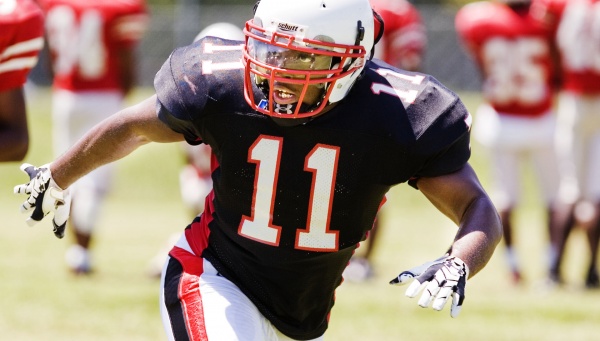 National Signing Day brought a few surprises to the Louisville football team and, in usual form, they were pretty negative. 2 players that were pretty much set-in-stone to ink with the Cards had paperwork problems. Krag's "sleeper-promising-need-filling"
class ranks around 70th
in both Rivals and Scout.com's class rankings. Keep in mind
there are only 65 BCS teams
...
- One,
JUCO DE DeQuin Evans
was reported to be all-over the Cards last week and narrowed his choices to the Cards and those SEC bottom-feeders in Lexington. Then, as we all should have expected, Evans hit a snag with his academic paperwork to enroll at Louisville, but
somehow was able to be cleared by Kentucky
. Of course, the Cats were then the clear favorite. Yesterday morning, the school was able to mend the snag and, per Jody Demling, hit him with the all-out blitz to entice Evans to join the class. It was all for nought and now we have to wear blue during his college career. Is it possible for the athletic department to get one thing right this offseason?
How does this happen in the first place?
You never know at the Schnellenberger Complex these days.
- Secondly,
DL Peni Fiuangaihetau
did not sign due to academic issues. That makes the second 4-star JUCO d-lineman (basically the 2 jewels of the class) to not ink with Krag due to a non-football issue. Peni chose us over West Virginia. I would almost bet he would be enrolled and ready to roll if he would have gone with the Mountianeers instead. Won't ever be able to prove it, but is a hypothetical question worth asking.
The Cards lost two recruits at their weakest position
to one rival and possibly another due to a lack of organization and communication among the football staff and admissions.
- Just when you thought the bad news was over,
a "big announcement" is set for sometime Monday.
I am almost positive it will be to announce the new offensive coordinator will be former administrative assistant Jay Johnson and Jeff Brohm has been "re-assigned" inside the athletic department. I'm still under the assumption that
Brohm will join Coach Schnelly at Florida Atlantic
and become the "coach in waiting" ala Joker/Brooks. I have nothing on this Johnson guy other than he was hand-picked by Jurich and Krag, which recent memory has shown isn't such a great thing. I'll let you know more as I find out.
- OK, time to be a little positive even as hard as it is.
Mike Privott
(pictured above) could be a 4 year starter at LB if we can get him to redshirt. Hell, we might even start him next year although LB is one of our stronger returning positions. He's stuck with us through the thick and thin of this recruiting process and should be commended for it. Krag said he likes to "hurt people" which is always good for a LB. Depending on how he is a s a decision maker,
JUCO QB Adam Froman
could be the starter next year. He has all the other attributes (mobility, strength, laser arm) and a player on the team told me yesterday he was, "a baby Tebow" as a dual threat QB. I'll believe it when I see it. Froman was a JUCO All-American out of CA, is enrolled, and will participate in offseason workouts and Spring ball. I have a feeling those two will pan out.
The other 21 are basically a flip of a coin
.
-I think most fans have gotten to the point where they
see through the BS of Krag
saying today, "
overall from top to bottom, this class is what we needed in terms of addressing some immediate needs and in terms of some of the younger players providing us some quality depth.
" That makes no sense. We need playmakers, not role players. If anyone tells you this class has promise - laugh at them.
20 Kentuckiana players signed with high-level D-1 schools
and Krag was able to snag a whopping 2. His son's team, Trinity, had at least 4 players that were as good or better than who we brought in. National Signing Day should bring fans hope for the future. All it did to me was reiterate the fact I'm glad it's basketball season.
Starting 5
1
Ross Siler
-
Jazz Notes: Salt Lake Tribune
-
A Dying Breed
(The great white hope has turned into the great white joke. I guess that's what you get when all you bring to the table is JJ Redick and Adam Morrison in the last 10 years)
2.
Ken Kosky
-
NWI Times
-
Fan attacks ref who also is a state trooper
(Yea..really smart buddy. But to his credit, why would someone be a referee AND a cop? Seems like you wouldn't have too many friends and a boat-load of enemies)
3.
Associated Press
-
ESPN to help create NYC sports-themed high school (That would definitely have gotten my attention in high school)
4.

John Kim

-

PGA.com

-
Tiger Woods: Full-Bore Practice Sessions Going Well (He's baaaaaaaccck)
5.

Jeff Goodman

-

FoxSports.com

- Meeks, Kentucky Fading Fast (Gotta love Mr. Goodman. He calls it like he sees it. UK sucks and he's letting the nation know about it)