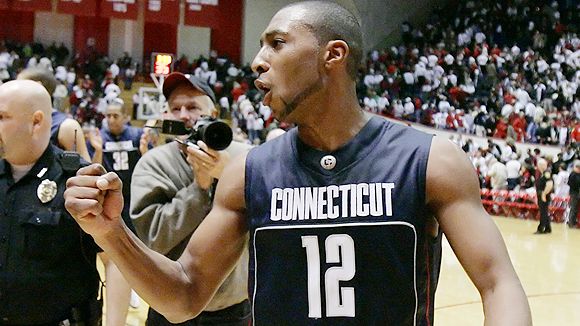 Date:
Monday, Feb. 2
Time:
7:02 p.m. ET
Site:
Crum Court / Freedom Hall (18,865). UofL 665-136 all-time in Freedom Hall.
TV:
ESPN will televise the game with Dan Shulman (play-by-play) and Dick Vitale (analyst)
Radio:
WKRD (790 AM, 101.7 FM) with Paul Rogers (play-by-play) and Bob Valvano (analyst)
Series History:
U of L trails 2-4 all-time (1-1 in Louisville, 1-1 in Hartford, 0-1 in Storrs, 0-1 neutral)
Last Meeting:
UConn 69, U of L 67 (Jan. 28, 2008 in Hartford, Conn.)

National Rankings:
U of L is ranked 7th in both the ESPN/USA Today Coaches' and Associated Press Polls this week; UConn is ranked 2nd in both the ESPN/USA Today Coaches' and AP polls this week.
University of Connecticut Huskies
Location
- Storrs, CT
Arena
- Gampel Pavilion
Head Coach
- Jim Calhoun (788-338 overall & 539-201 in 23 seasons at UCONN)
Assistants
- George Blaney, Andre Lafleur, and Patrick Sellers
Famous alumni
- Moby (crappy muscian0, Meg Ryan (former film star), Leigh Montville (legendary sports writer), and that's about it outside of sports. Kirk Ferentz (Iowa football coach), Tom Penders (Houston basketball coach with curly mullet), Charles Nagy (former picher w/ Indians)
Basketball alumni
- Ray Allen (smoothest J in recent memory - Jesus Shuttlesworth), Richard Hamilton (the masked-man), Emeka Okafor (Bobcats), Rudy Gay (Grizzlies), Cliff Robinson (ex-tall sharp-shooter for Portland), Ben Gordon (Bulls), Caron Butler (Wizards), Josh Boone (Nets), Hilton Armstrong (Hornets), Donyell Marshall (4th pick in '94 draft), Tate George, Charlie Villanueva (Bucks), Marcus Williams (Nets) & countless former women's basketball greats.
Shot-blocker Extraordiaire
- Hasheem Thabeet is the best interior defender in the country. On top of averaging 4 blocks a game, the 7-footer alters nearly everything brought into the lane. A guy like that can take over a game subconsciously by always being in the oppositions head whenever they think of attempting something in the lane. Earl Clark and Tereence Williams play above the rim, so they can deal with Thabeet, but a guy like Samardo might have trouble getting his shot off against the big guy. Samuels' best bet would be to play physical and get Thabeet in foul trouble so he's not in the game as a disruption. Thabeet is coming off a triple-double against Providence last week.
Lunch Pail Kinda Guy
- It's as overused a saying as anything in sports, but UCONN PF Jeff Adrien is a "blue-collar"/"lunch-pail" kind of guy if I've ever seen one. He's built like a truck at 6'7 245 and is your prototypical BIG EAST power forward. Adrien can hit the open
jumper, guard a quicker or taller player, and lead without having to fill up his stat sheet. Put it this way, Earl Clark averages 14 & 10, Jeff Adrien averages 14 & 10. Only twice this season has Adrien been held in single digits in the scoring column and he has recorded 10 double-doubles. He will make life difficult for Clark, Samuels, and Terrence Jennings when it comes to rebounding. Someone needs to put a body on him as soon as a shot goes up or else he will make them pay dearly.
Deep Impact
- Both teams have ridiculous amounts of depth and which team gets the best production could determine the outcome of the game. Louisville's pressure will force UCONN to dig a little deeper than usual, especially if fatigue becomes a factor. Seven of UCONN's top 8 could start almost anywhere in the country. Stanley Robinson is Calhoun's 7th man and has the capability to go for 30 any particular night. Much like Louisville, you never know where it's going to come from specifically. Also, UCONN rotates their PG's a lot like the Cards with freshman phenom Kemba Walker splitting time with Craig Austrie.
Prediction - CARDS 76 HUSKIES 70