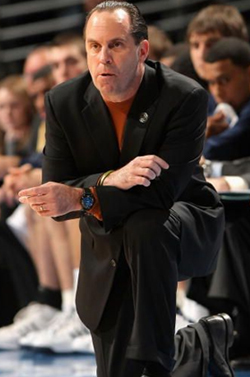 Head Coach
: Mike Brey (
9th season
)
Record
: 12-3 (
overall
), 3-1(
Big East
)
Last game
: Beat Seton Hall 83-79
Team Statistics
-
Scoring: 82.2 ppg (1st in Big East) Opponent - 67.5 ppg
Rebounds: 43.1 rpg (4th in Big East) Opponents - 35.5 rpg
Assists: 18.7 apg (1st in Big East) Opponents - 13.1 apg
Turnovers: 9.4 tpg (16th, fewest, in Big East) Opponents - 12.7 tpg
Steals: 7.1 spg (11th in Big East) Opponents - 5.3 spg
Blocks: 2.7 bpg (16th in Big East) Opponents - 3.3 bpg
FG pct: 46% (6th in Big East) Opponents - 42%
3 point pct: 41% (1st in Big East) Opponents - 34%
FT pct: 69% (7th in Big East)
Starting Lineup...
A triple double threat every time he gets on the court, averaging 11.8 points, 5.9 assists, and 4.5 rebounds a game. Has scored in double figures in his last five games and put up a season high 21 against Indiana earlier this year. While he can knock down the three (shooting 41%) he doesn't force the shot, attempting only 24 times (hitting 10 of them). Does a great job of getting into the lane and with a strong upper body, has the ability to finish at the rim.

OK...if you don't know this guy can hurt you from anywhere on the court then you have never watched a game of college basketball. The President of the Tommy Chong Fan Club is from Statin Island, New York and came to the Irish as the 4th All-Time leading scorer in New York High School history. Since then has shown everyone he can hit anything (whether it be a three or a joint). Averaging 16.5 points a game, hitting on 46% of 134 three point attempts this season already. Drilled North Carolina for 39 points in defeat. Not at his best when forced to create for himself, obviously better as a catch and shoot player. Has only taken 46 shots this season that wasn't a three (out of 182 total shot attempt).
Guard
-
Ryan Ayers
6'7 210 Senior #42
The son of former Ohio State head coach Randy Ayers (currently an assistant coach in the NBA), has improved his game every season to the point where he is averaging career highs in scoring (11.5), rebounds (3.4) and field goal percentage (46%) a game. Ayers is the second best shooter the Irish have, connecting on 44% from behind the arc (39 of 87). While he may not get the attention that some of his teammates do, can still burn you if you leave him open, putting up 35 points earlier this year in a win over South Dakota.
One of three Senior starters and the role player on a team of offensive studs. Averaging 6.5 points and 5.9 rebounds a game. This is the guy the Cards will need not forget about, does a great job at scrapping for every loose ball and at 2.9 assists per game, shows he has the ability to find the open man. Put up 17 points against Depaul and pulled down 12 rebounds against Furman (both wins). Has had an offensive rebound in seven straight games (four against Georgetown), while only twice this season has Hillesland been held without any offensive rebounds in a game.
Forward
-
Luke Harangody
6'8 251 Junior #44
Frankenstein leads the Big East in scoring (24.5), rebounding (12.5), field goals made (117), is second in free throws made (83), and eighth in field goal percentage (50%). Oh yea...I almost forgot, he put up 40 on the Cards last year in Freedom Hall. The only way anyone has slowed this beast down was by giving him pneumonia. In 13 games this year Harangody has only been held below 20 points twice (one of those was with pneumonia and still had 13 points) and has scored over 30 points three times, including his last two games (wins over Georgetown and Seton Hall). Is averaging 4.5 offensive rebounds a game as well. Not really a threat from deep, but can hit a fifteen footer if you leave him open. You let him get the ball anywhere on the low block though and you might as well just let him dunk it because he is going to score whether you like it or not.
Key Reserves...
Luke Zeller, forward - leads a thin bench in minutes (17.8), points (6.3), and rebounds (3.8) a game. Had 10 points and 11 rebounds against Indiana.
Jonathan Peoples, guard - doesn't fill out the stat sheet but does have a 2/1 assist to turnover ratio in relief of Jackson and McAlarney.
Needs to be done
- The Cards have struggled with putting teams away over the last three games and the Irish showed last year in Freedom Hall that they will never die, coming back down 19 with 5:41 to play, cutting the Cards lead to just 5 with 23 seconds. That can not happen again, Louisville must learn to finish off their opponents because Sosa isn't hitting that many 30 footers and something tells me Harangody isn't going to miss a layup to win the game. Notre Dame is not the best defensive unit, so the Cards should get plenty of good looks from the outside, as well as the fact that no one on the Irish's roster is a shot blocking threat, so Louisville's guards should have no fear attacking the rim. Louisville can't stop Harangody (sorry) but no one can, he is going to get his points and rebounds. In two of the three Irish defeats, McAlarney was a combined 1-11 from behind the arc (North Carolina only exception) and in last seasons victory he (McAlarney) was 3-17 from the field. Louisville must disrupt him as much as possible. Point guard Tory Jackson must also not be allowed to have his way in the lane. Cardinal guards did a great job (mostly) of not allowing Nova's guards to penetrate the lane with ease, giving them the luxury of picking which open shooter to pass to. If Jackson is allowed to penetrate, surrounded by so many offensive weapons, it could be a long day for Louisville.
Prediction - This is a game Terrence Williams can be big in. Notre Dame doesn't have anyone who can match up with him and with their (Notre Dame) lack of ability to block shots, Williams should be able to get into the lane and finish. Louisville defensively have been on all year but this by far is the best offensive team they have faced. If Samuels thinks he had it tough with Dante Cunningham (a good player), he hasn't seen anything yet. Jennings has been forced to play more minutes lately (Samuels fatigue and foul trouble) and has shown great improvements (more on defense then offense) and the Cards are going to need him to contribute if Samuels gets in trouble.
Cards - 84
Irish - 79